Position Preview: Aggies Return Trustworthy Tandem At LB
With MJ Tafisi healthy once again and Max Alford ready to build on his first season as a linebacker, Utah State can feel very good about the position entering 2023: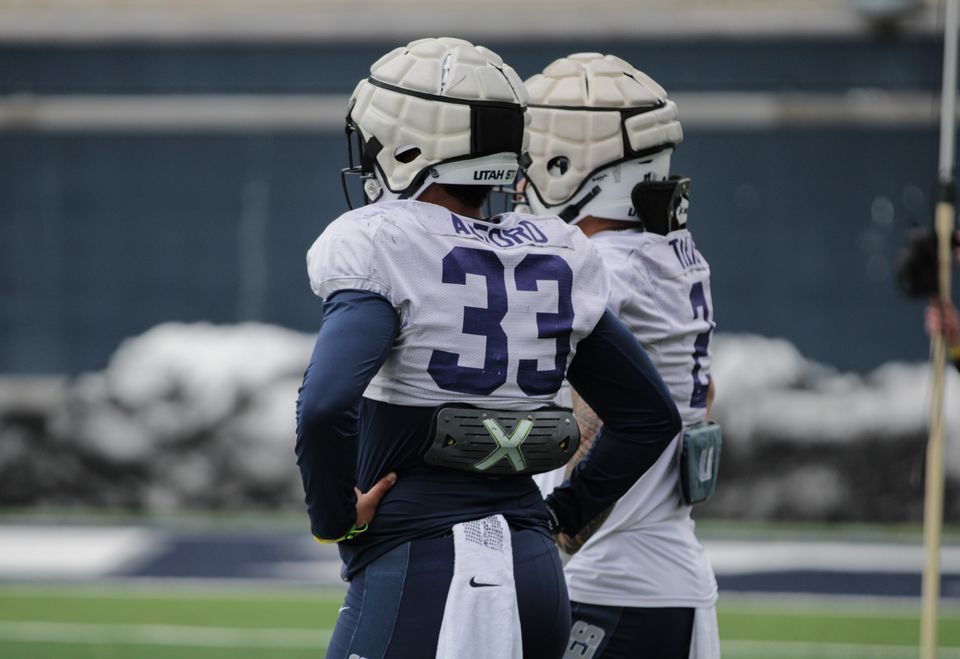 New Utah State defensive coordinator Joe Cauthen's resume is riddled with terrific linebackers taking on huge responsibilities to help the defense find its groove. When he first arrived at Arkansas State to work under then-newly hired head coach Blake Anderson, he leaned on star senior Qushaun Lee – who responded accordingly, notching a team-high 95 tackles and earning a spot on the All-Sun Belt first-team alongside another standout, league honorable mention Xavier Woodson-Luster.
In Cauthen's second and third seasons running the defense in Jonesboro, it was Woodson-Luster who grew into the system and took on leadership duties, logging 71 tackles and finding his way onto the conference's second-team list – an achievement he would match in 2016 as the leading tackler (95) on a defense that finished in the top 20 nationally for points per game surrendered. Kyle Wilson was next up in 2017 and drew the same accolades behind a team-best 93 tackles.
Hybrid player Grant Stuard was Cauthen's star pupil when he arrived at Houston in 2019, leading the Cougars in tackles during both seasons he spent under the DC, accumulating 158 tackles across 19 games and earning first-team All-AAC honors in 2020 before being selected by the Tampa Bay Buccaneers in the seventh round of the ensuing NFL draft. Cauthen coached yet another first-team all-conference pick at Buffalo in 2021, inheriting the excellent James Patterson and helping him to an incredible 114-tackle season; and he produced a second-team All-WAC pick, Jermaine Brown, in his lone season at Stephen F. Austin last fall.
That list didn't come together through sheer luck. Cauthen has spent seven seasons as a linebackers coach since 2011, and has another five years working with defensive lines under his belt – experiences that played a key role and molding his system. The system lends itself well to those standouts, too, tasking its linebackers with orienting their teammates before the snap but allowing them to play aggressively after it.
"Pre-snap, we will look very similar (to what Utah State did last season), but when the ball is snapped, there will be a considerable difference and it's primarily in the coverage aspect," Cauthen said in a team release. "We will play four defensive linemen, two corners and two safeties. I like playing with another cover person versus modern-day offense. If we were playing Wyoming, we would look very similar to last year. But, if we're playing spread teams, we're going to be playing with another cover guy. We call it a nickel. It was the striker position, which we call our Sam, so our nickel is another cover guy for us. And, then there are some other differences.
"The way we play defense, it appears that we're always bringing pressure, but I want to be in attack mode in our base defense. I want people to feel that. I do think there are times you have to sit back a little and give the offense a different look, particularly because of how the game is formulated for offenses. If I was playing us, we would look one way, but if we play San Diego State, we're going to look completely different because of the different styles. I'm not locked into doing things a certain way. What I am locked into is stopping what they do and making them do something different. There's a lot of communication that is required."
For Cauthen and the Aggies, the personnel suits the task. Even with the departures of starters Kaleo Neves (Nevada) and A.J. Vongphachanh, a deep rotation in 2022 has given Utah State the crucial experience and continuity it needs at linebacker to hit the ground running under new management.
---
This post is for paying subscribers only