Healthy At Last, Switzer Isn't Missing His Chance: 'I'll Give You Everything I've Got'
Anthony Switzer (@Switzer1k) is having a whole lot of fun – flying around the field and launching into elaborate celebrations. He's also playing like the star the Aggies need him to be: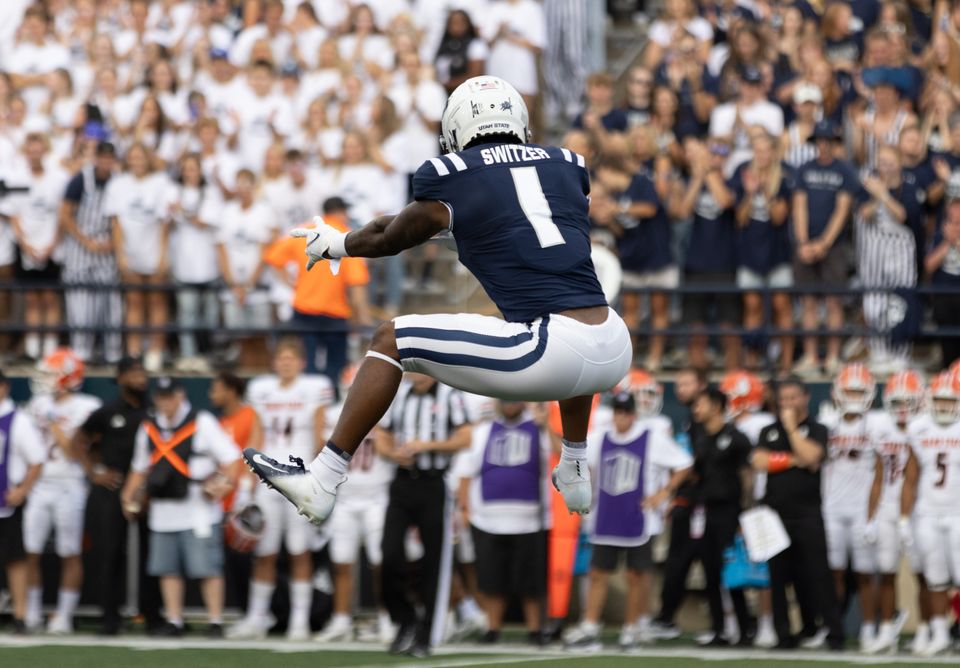 LOGAN – Anthony Switzer is having the time of his life, and he doesn't care who knows it. The Aggie safety is notching and firing imaginary arrows, dancing with his teammates, declaring himself one of college football's best players and launching into elaborate Spider-Man celebrations he's rehearsed in his room.
"The Spider-Man celebration, I practiced that in my room last night," Switzer said. "I had about four yards worth of space to try to perfect it. This was my first game in the Mav and it was so special to me. This university is special to me. That first tackle, man, I just had so much energy that I had to let it fly out there."
Who can blame him? Switzer is the beating heart of a Utah State team rediscovering the joys of football. He's a living, running and oft-hollering bolt of energy leading Joe Cauthen's defense with teeth-rattling hits and an unbridled passion for the game that was for the better part of two years taken from him by injuries, prolonging his Utah State debut by a full season. The fifth-year junior had eight tackles in that debut against Iowa, and followed it with 10 in his first Maverik Stadium appearance on Saturday night.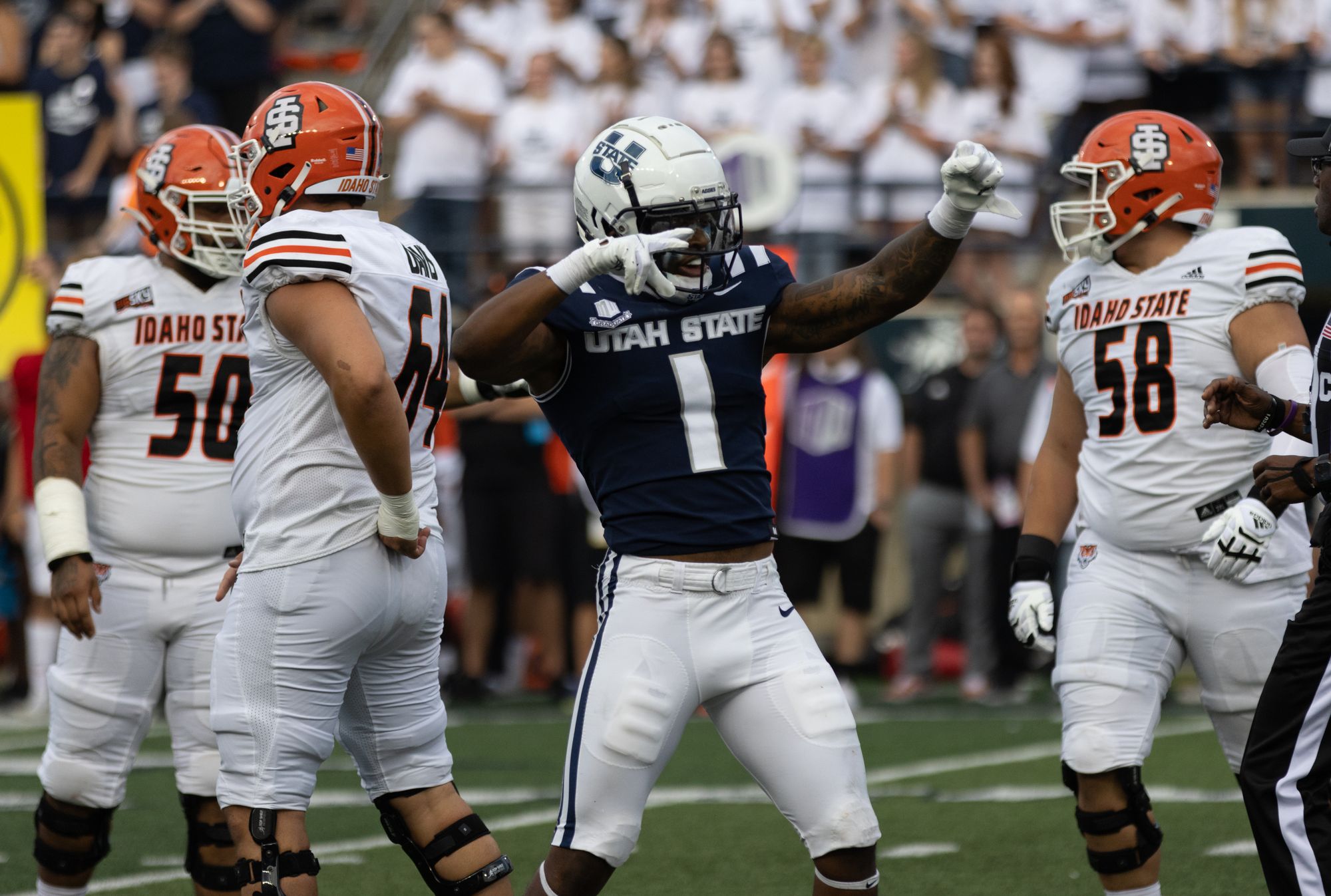 "Last year, I sat back and watched it and I just couldn't wait to be a part of it," Switzer said. "It lived up to our expectations. Coach Anderson told us today while we were sitting in these chairs, he said, 'It's going to be everything that you want. Don't take this for granted because everywhere doesn't have this.' I was at a place where our student section and the fans didn't come support us like this. It means the world to me."
Switzer is exuberant in his play, as in his discussion of said play. He darts around the field from his position as a... well, as a bit of everything, putting out fires in the secondary on one play and stuffing a ball carrier at the line of scrimmage on the next.
"It's a hybrid position, but I tell coach that I'll do whatever I need to do to help the team win," Switzer said. "I'm going to give it my all. I'm going to prepare every day. Wherever he wants to plug me in, I feel like I could play it all. I'm not a high-rep guy – someone who has to do a lot of things over and over and over to do it right. He could show me something on the film, I could tweak the little mistakes that I made during practice, and then I feel alright with it."
Before the snap, he's the loudest man on the field, positioning his teammates within the formation and calling out anything he recognizes from the offense. After it, he's a wrestling face, playing to the crowd that he waited so long to electrify – and which he was stuck watching from the sidelines last fall, making the trek westward from Arkansas State prior to spring camp and tearing his ACL in the closing spring scrimmage.
In large part, surely, that time away has fueled Switzer's surge through the opening stanza of this campaign – and it certainly played a role in the energy he now brings to the game. He's been a spark plug since his days as a freshman in Jonesboro, but his long rehabilitation forced him to slow down and gave him a greater appreciation for his circumstances.
"Going through all those things really prepared me for the moment," Switzer said. "I believe that God doesn't make a mistake. My injury was a blessing in disguise because God taught me so much during those times that prepared me for the moment I had on Saturday. I just made the best of it."
They've molded him further into the kind of leader that Utah State, frankly, couldn't do without on a defense in the midst of as many changes as this one is. With fellow veterans Mike Anyanwu, Hale Motu'apuaka and MJ Tafisi, Switzer is a critical piece for Cauthen's unit.
"It's big," head coach Blake Anderson said. "I think with this group on defense, we're really lucky there to have a guy like Switzer who's like having a coach on the field, very mature. MJ is very mature. Mike, Hale – it was great to have Hale back, even though it was limited tonight and we had to take his pads away from him at halftime. Switzer is a calming force and a physical force as well. It has been extremely helpful to have that kind of leadership with all the transitions we've had on defense."
When the Aggies left Iowa City having failed to force any turnovers – which had been a crucial part of the gameplan and is always a focal point for Cauthen's unit – it was Switzer who took the rap.
"I'll take that bullet," Switzer said. "That's my fault. Coach Cauthen tells us all the time in practice that we have a goal to get so many punch-outs or punch attempts on the ball. We've been trying to apply it, but we haven't been making a mental effort to make that something that's second nature to us. I take that, because I'm a leader on this defense and I should make sure everybody on the team is getting punches on the ball. That's on me. We'll get better at that. We'll start implementing it more in practice and let it carry over to the game.
"We have to create turnovers. That's something we should have had. We missed, what, four opportunities on Saturday? Hopefully, we take that and learn from it. We watched the film, we need to learn from it and apply it to practice, and then it'll show up on Saturday."
He's spread the importance of accountability through his room.
"The No. 1 thing is effort," Switzer said. "When you go out there, you see guys playing hard and flying to the ball. Even if we mess up coverages, we try to eliminate explosive plays with our effort. Sometimes today, we busted on the coverage, but the effort made up for it and a lot of people wouldn't tell because of our effort. I love our brotherhood, how well we communicate on defense and how we come together. We turn inwards, not outwards. If somebody busts, I bet y'all couldn't tell because nobody's screaming and pointing a finger. We take accountability for all. Everybody."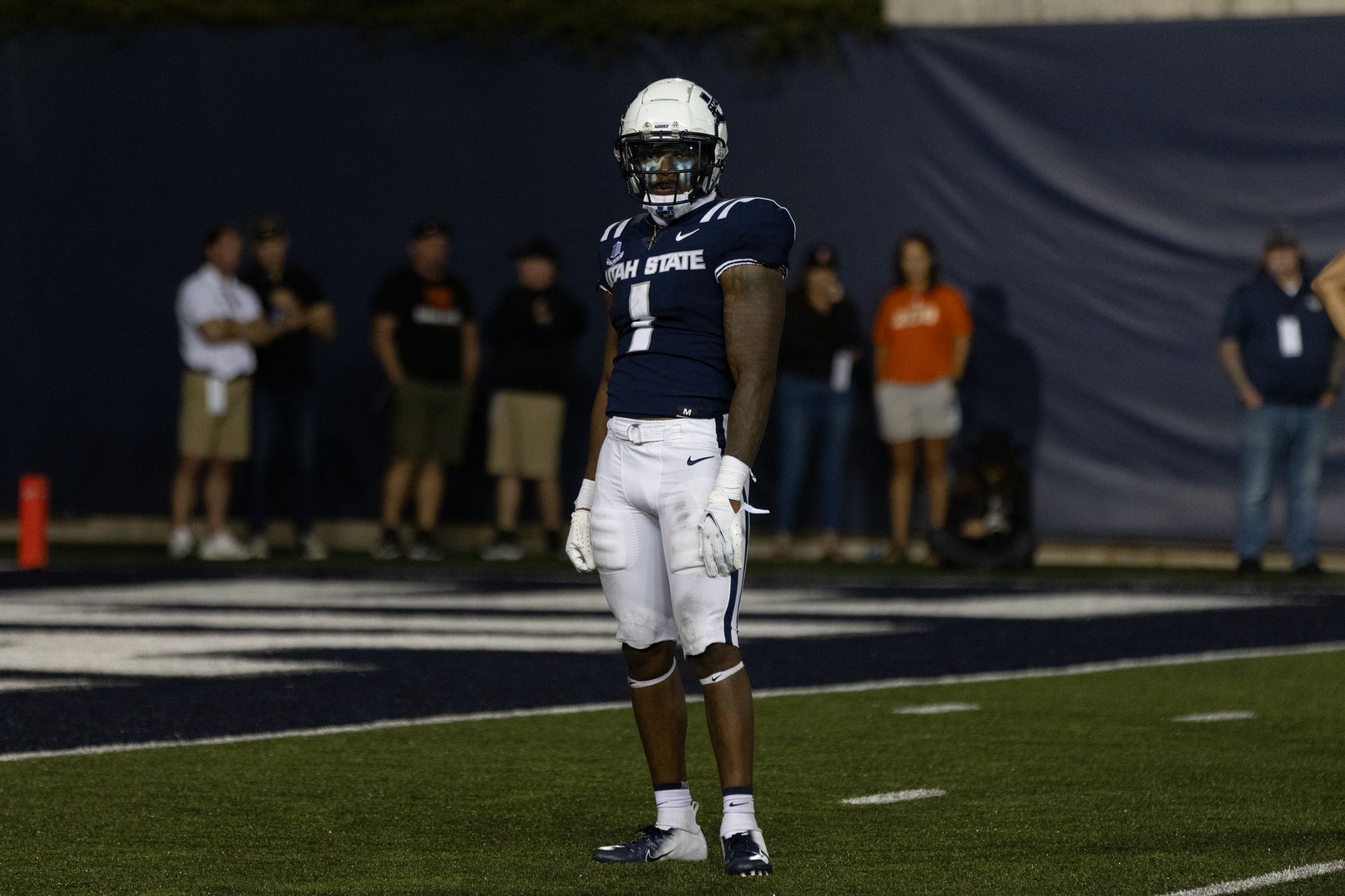 And just as he said, the Aggies watched the film, learned from it, applied it to practice and showed it on Saturday. Jaiden Francois and Ike Larsen both made house calls on interceptions in Utah State's 78-28 win over Idaho State, and Cian Slone fell on a second-quarter fumble that turned immediately into Utah State points on a Cooper Legas touchdown pass. Naturally, Switzer wasn't satisfied with three turnovers.
"We for sure did a lot better," Switzer said. "I still think we left a little bit on the table as far as punch attempts, but on the wall right there it says one degree better daily. We got one degree better, and that's automatic.
"The next degree... we let them score too much. Twenty-eight points is too many, and I feel like we gave them those points. It was small communication things or eye discipline things. It's about perfecting our craft."
His aspiration should not be confused with thanklessness. Switzer wants the Aggies to get better – always one degree better, as is emblazoned on the wall in Utah State's team meeting room – because he takes immense pride in the product he and his teammates put on the field.
"This right here, the name on my chest and the name on my back, it means so much to me," Switzer said. "I'm not going to lie. I feel like I'm one of the best players in college football. When people pay to come see me play, I'm going to give 'em everything I've got."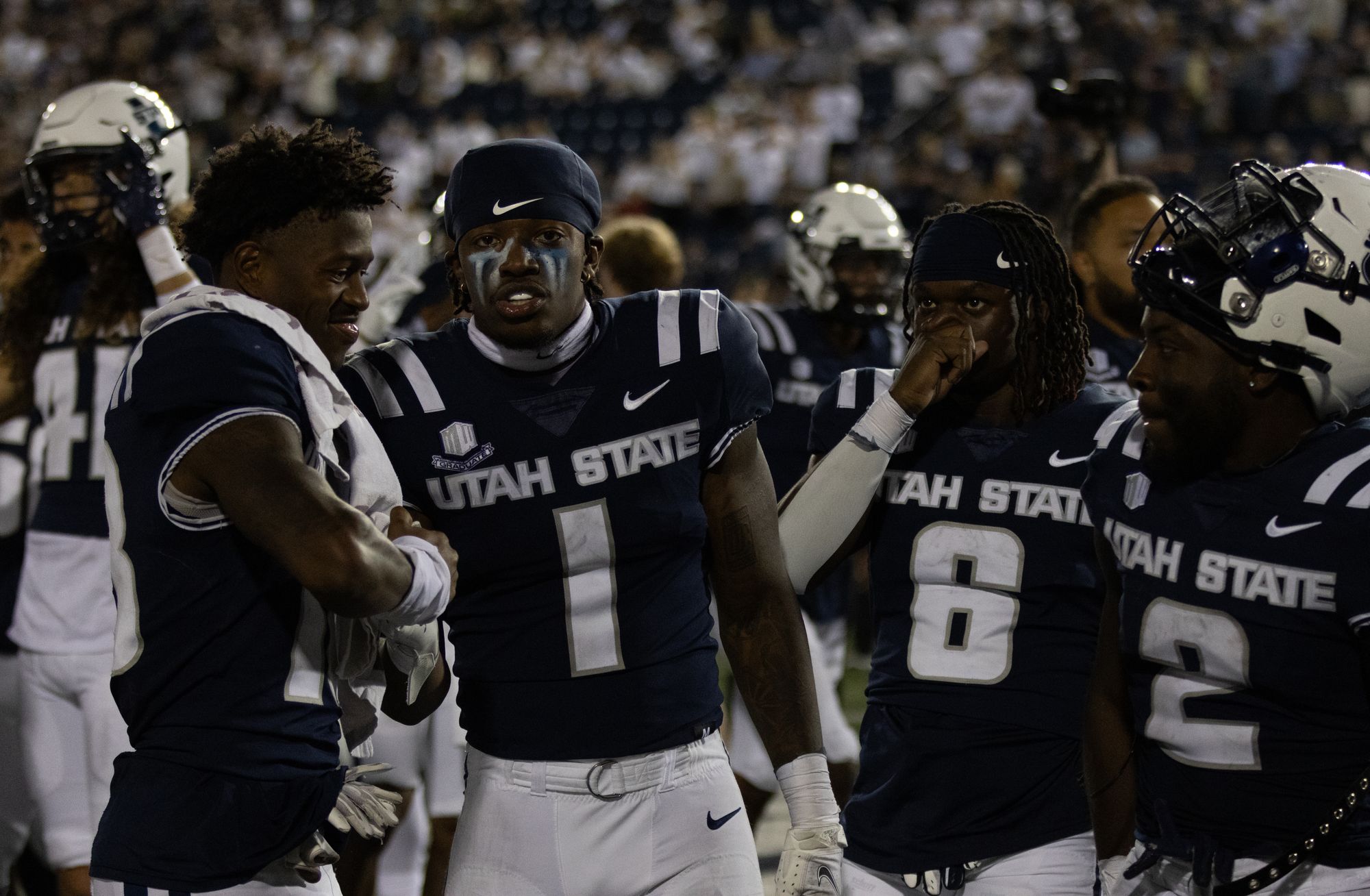 Ultimately, the Utah State star is grateful. He's grateful to be on the field with his brothers, and he's earned the right to celebrate it any way he pleases.
"I put in a lot of work to play football and to be out there with my brothers," Switzer said. "I told them before the game when we got in our huddle, 'Hey, I got y'all back, I know y'all got my back and I'm going to give y'all everything I got.' "