An Ode To The Sleepy Non-Conference Game
Games like Utah State-Idaho State are often overlooked, but they play a crucial role for Aggie fans – both long-established and soon-to-be-initiated. Free feature from @Pshark14: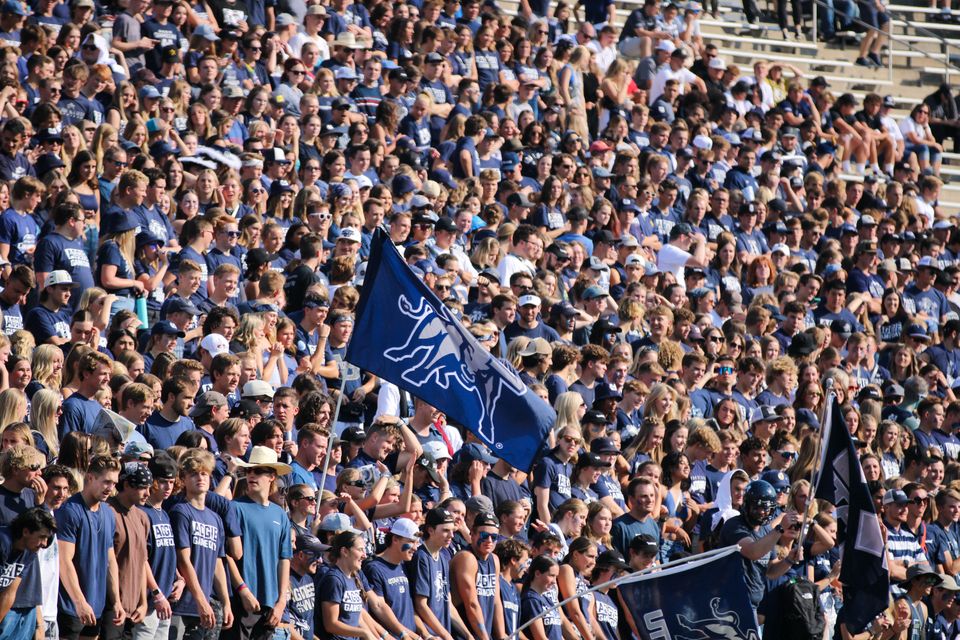 In college football, which guarantees its teams only 12 appearances a year, any game can be magical and memorable. Sometimes, those games considered inconsequential or trivial can become major pieces for remarkable seasons.
Consider Utah State's recent history. In 2012, the Aggies started one of their best campaigns ever with a win against Southern Utah. In 2018, after losing to Michigan State, they got their spectacular season back on track with consecutive home victories against New Mexico State and Tennessee Tech. Just two years ago, after an impressive win at Washington State, Utah State still had to come home and beat North Dakota on its way to the program's first-ever Mountain West Championship.
None of those teams stood out at the time. Southern Utah went 5-6 in 2012, and Utah State handled the Thunderbirds accordingly with a 34-3 victory. North Dakota matched that record in 2021, and fell in Logan 48-24. New Mexico State entered the 2018 season riding high – having made its first bowl appearance (a win over Utah State, it bears mentioning) since 1960 the season prior – but managed only three wins on the year, suffering a 60-13 beatdown at Utah State's hands. Tennessee Tech, which went 1-10 in 2018, got it even worse from the Aggies (73-12).
But, every game matters. While these early season non-conference games are often overlooked, they play a valuable part in what makes Aggie football so special.
Why? Well, as is frequently the case in college sports, the qualitative implications outweigh the quantitative – and that'll be on display again as Utah State opens its home slate against Idaho State this Saturday. Sure, from a quantitative perspective, this game carries less weight. It isn't a conference game (or even an FBS matchup), and Utah State is favored heavily.
But to the kid in the stands, who wants nothing more than to grow up an Aggie? It means just as much as any other – if not even more. Try telling them that a win is assumed, or that a loss doesn't really impact a team's conference goals. It won't go over well, and I would know. I've been that kid.
Every game has emotional and sentimental value to those invested, but games like this can be particularly important because of the increased level of accessibility for families – a crucial part of Utah State's fan base, and a large portion of Cache Valley's demographics. They present an opportunity for more people to get to the stadium, as the weather is usually nicer, the price point is lower, and there's a bit less on the line (just in case of an earlier-than-expected exit, which parents know all too well about).
And the stadium, after all, is where lifelong fans are cultivated. The bleachers at Maverik Stadium and the autumnal colors of the Spectrum aren't just seats to watch a game from – they're tradition. They've made fans of first-time visitors for decades. For many a true-blooded Aggie, those seats are home. I would bet you remember your first Utah State football or basketball game, and I would bet many of those experiences came during games much like this one.
Non-conference games can also draw interest for reasons unrelated to the sights and sounds of a gameday on campus. While conference games are inherently more important, touting championship implications, the slate of opponents is mostly static from year to year. Non-conference matchups allow the Aggies to play teams they wouldn't otherwise, or to maintain relationships with longstanding foes. In the case of the upcoming game against Idaho State, it's the latter.
The Bengals and Aggies don't face off as often as they used to (the two met 14 times in the 1900s), but their six meetings since 2000 tell a story.
At the turn of the century, Idaho State earned only its second victory in the series, toppling the Aggies 27-24. Utah State snuck past ISU the following year with a 28-27 victory, and claimed another in 2002, 38-33.
After playing for three consecutive seasons, the teams took a break and didn't meet again until 2010 – and by this time, there was something in the Logan air. Second-year head coach Gary Andersen was already bringing new energy to the Aggies, but uncertainty and apprehension still surrounded the long-suffering program.
Utah State had gone on the road to meet seventh-ranked Oklahoma the week prior, and although they came up short, the Aggies made a statement with a hotly contested 31-24 loss that shocked the Sooners.
Back home from their big outing, a 6 p.m. kickoff at then-Romney Stadium turned into a statement victory for the Aggies. Led by Diondre Borel completing 21 of 26 passes for 255 yards and a touchdown, scoring another on the ground, the Aggies won 38-17. Halfbacks Joey DeMartino, Derrvin Speight and Kerwynn Williams each pitched in an Aggie touchdown, racking up 275 rushing yards with help from Michael Smith, who ran for 86 yards.
Although the Utah State faithful could sense then that things might have changed, nobody could be sure quite yet that the Aggies were at the beginning of a mighty resurgence.
By the time the Bengals visited Logan again, in 2014, any ambiguity about the direction of Aggie football had vanished. Andersen had led Utah State to bowl bids in 2011 and 2012, passing the reins to Matt Wells after an 11-2 campaign in the latter season, and Wells hardly missed a beat. USU rattled off nine wins, another bowl bid and a Mountain West title game berth in his first season at the helm, and was looking for more in 2014. Idaho State had the misfortune of opening Utah State's home slate, and the Aggies dispatched the Bengals 40-20.
Three years later, in 2017, the Aggies won 51-13 in a game that saw then-freshman quarterback Jordan Love make his debut. Kent Myers was the starting quarterback, completing 24 of his 26 attempts for 323 yards and two touchdowns, earning two more with his feet. Ron'Quavion Tarver and Jordan Nathan were the touchdown targets, striking from 75 and 63 yards out respectively. Thirteen different receivers caught passes, including Dax Raymond (three receptions for 56 yards), Savon Scarver with (one for 35) and Jaren Colston-Green (one for 34). On the ground, Eltoro Allen was Utah State's leader, with 19 carries, 103 yards and a touchdown. Defensively, Jalen Davis grabbed a pair of interceptions.
Idaho State might not feel, to Aggie fans, like the most formidable opponent. History would largely agree with that. A game against the Bengals may not seem like the most entertaining way to spend a Saturday. Again, the history would back that up. There have been more shutouts between these two (eight) than there have been one-score games (five) in 20 tries. The average scoring margin, 38.1-10.6, does not paint Idaho State in a kind light.
But, this way of thinking is fraught with fallacy. It's a misunderstanding of college football, and college athletics writ large. Admittedly, Utah State is a historically far superior program. The 18-2 head-to-head record in its favor can't really be argued. And yet, whatever the history might say, no football game should be taken for granted. The Aggies have learned that lesson the hard way more than their fair share of times. Sometimes, Utah State has been on the fortunate side of that truth. Other times?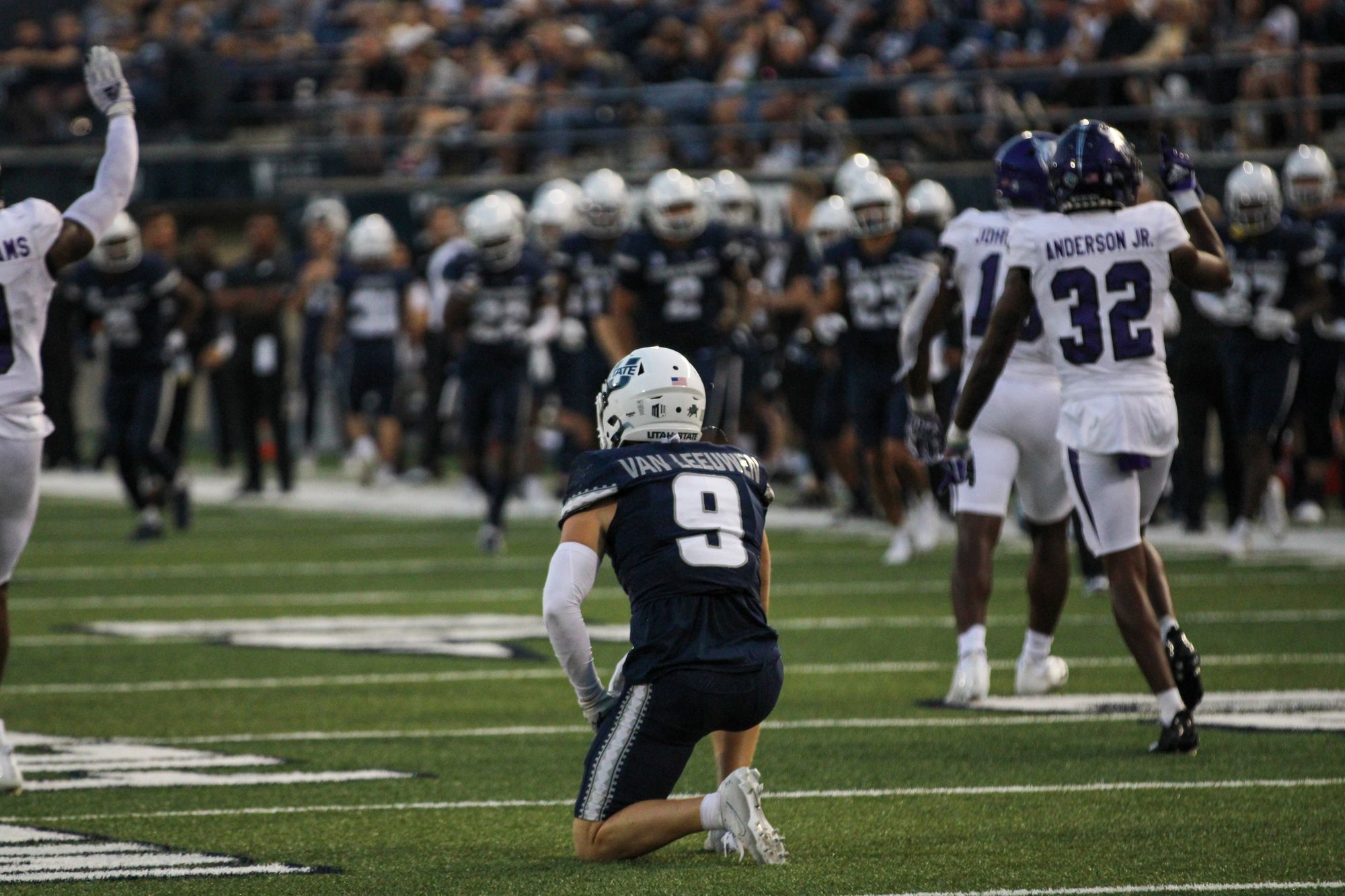 Beyond the results, even, Utah State football is special; Maverik Stadium is special; and Logan, Utah is special. Whoever the opponent, there is no better place to spend a late-summer Saturday afternoon than surrounded by fans, friends and family, watching the Aggies. Games like this make that possible for more Aggie fans, both long-established and soon-to-be-initiated.